Scroll down to your site footer, hover over the small gear icon on the right side, and click the "Configure button as shown below.

The footer customization screen should look like this - note the empty "Block title" region: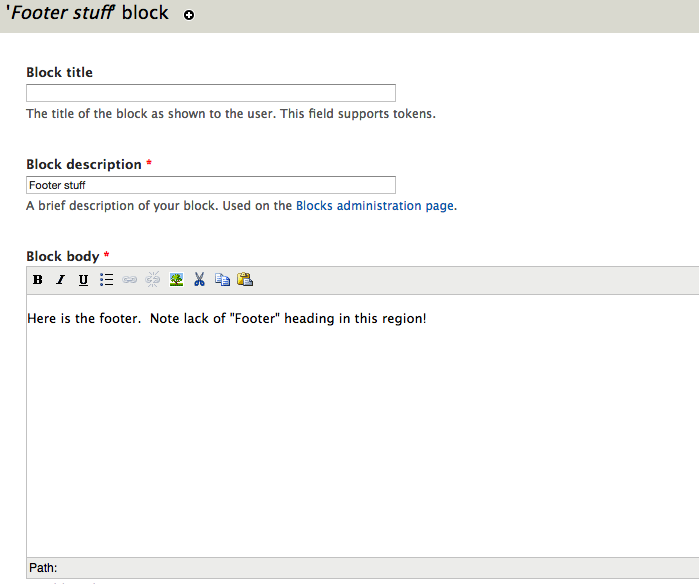 We'll add a title for this footer block in the "Block title" field.  We can also edit the "Block body" which is the content in the footer: lists, text, images, links, etc.  Note: you must be in FULL HTML mode to use image alignment feature!!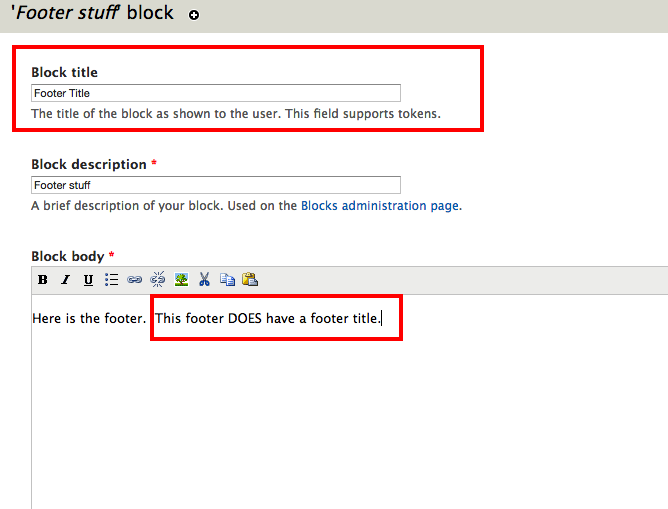 Scroll to the bottom of the edit screen and click the "Save Block" button.  Then view your new footer -- you can see a modified footer with a title below:

Important note: since RBD is partially supported by LSTA funds, each library is required to enter the following paragraph -- with embedded links -- somewhere in their footer:
Reading by Design is a program of the California Library Association, supported in whole or in part by the U.S. Institute of Museum and Library Services under the provisions of the Library Services and Technology Act, administered in California by the State Librarian.
Links to embed:
"California Library Association" should link to http://www.cla-net.org
"U.S. Institute of Museum and Library Services" should link to http://www.imls.gov
"State Librarian" should link to http://library.ca.gov