Adding Prizes
From the Setup Menu, select Prizes
Click the Add Prize button
Name your prize in the Title field
Add an optional Prize Description 
Skip the Program Reference field (unless you already have your Programs set up and are going back to add additional prizes)
Add a Prize Message (the user will see this)
Click the "Save" button
 You can also import prizes from a spreadsheet. 
To edit prizes at a later time, click Prizes in the Setup menu then the Edit button. 
Please Note:  There is no DELETE PRIZE option available, so add your prizes carefully. If you end up with a prize you don't need, simply re-name it Don't Use or similar in the Title and Prize Message fields (required)  and make sure to delete any program reference. If this changes, we will update. Thanks!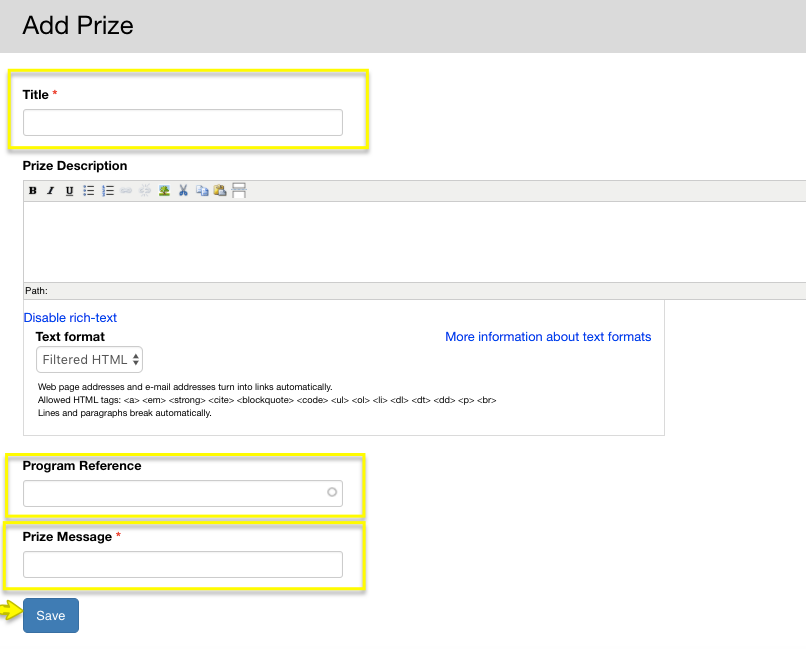 Deleting a Prize
We hide the Delete capability to make it harder for Prizes to be accidentally deleted.
To delete a Prize, you must login with your admin account.  Then visit:
https://YOURSITE.bookpoints.org/admin/structure/entity-type/prize/prize
This page lists all of your Prizes.  This page has tabs at the top, including "EDIT" and "DELETE" -- do NOT click these tabs.  Do NOT click the CAPITAL "EDIT" or "DELETE" tabs.
Instead, look in the list -- each row has a lowercase "edit" and "delete" link for each individual Prize.  Use THESE "delete" links to delete a Prize.